HAPPY ALMOST NEW YEAR! too soon? i know, its too soon for me too.
i feel like this year FLEW by. wasn't it yesterday that i was getting on a plane to move to NYC? ugh. HOW HAVE I LIVED HERE FOR ELEVEN MONTHS? so, so much has happened this year and i'm so grateful to all my supportive friends, family, and readers (aka YOU!)
i wanted to say thank you for always standing by me and being the best support system.. um EVER! so let's make a batch of sangria and cheers to you, the real MVP of 2015.
you didn't think it'd be that easy did you? that i'd just say a few words and jump right into how DELICIOUS this sangria is? do you know me at all?
okay things i need to ramble on/about in my annoying way:
first up. i made a batch of this glorious juice last night after a particularly long day in the office and i gotta tell ya. knowing that it's sitting in my fridge right now waiting for my 3:30pm end of day call is KILLING ME.
second up. can we talk about how GLORIOUSLY BEAUTIFUL pomegranate and grapefruits are? i can't even handle it. i want ALL the pomegranate arils. i REALLY wanted to run out and get some greek yogurt this morning so i could have it with granola and pomegranate on top for breakfast. #basic
third. someone REALLY needs to stop me from hashtagging ON THE BLOG.
fourth. also, can someone just take away my shift/caps lock keys? why do i insist on improper capitalization? ugh.
fifth. should i even tell you that when i made this last night frankie didn't even let it set before gulping down two glasses? THE FLAVORS NEED TO MINGLE doesn't he know? nope he doesn't. sigh.
six. do you know how to open a pomegranate? i'm posting a video on instagram later that shows how EASY it can be! who knew?
seven. did you know that i'm obsessed with maroon? its been my favorite color for years. even though i have to think about it every time someone asks me… i always get drawn back to it.
eight. this is completely unrelated, but do you ever get sucked down the hole of reading running articles? i couldn't stop last night. also, i was literally crying laughing at funny running tweets in one of the articles i read. CRYING. as in tears. halp.
nine (and then i promise i think i'm done rambling). i'm SO excited to decide my new years resolutions tonight and write them down and start using my day designer mini! GAH. also, i got pretty gold washi tape this year. #dead.
p.s. can i put a period after a hashtag? is that a thing?
p.p.s. what are YOUR resolutions this year? and what are your plans? i'm literally going to sit on my couch with frankie and a vat of sangria. muahahahah.
okay now we can really talk about the sangria. nice segway right?
i had sangria when i was home for the holidays and for some reason i couldn't stop dreaming up perfect fruit combos. soooo i decided to make a new years eve sangria. the best part?
besides it being delicious. there's no added sugar! when i started researching recipes were like "1 cup simple syrup" i was like UM NO. and you guys know i'm not drinking soda (it'll be a full year January 4th!) so when they were like "pour it over ginger ale" i was like NUH UH.
so we're taking our wine and adding in two fruit juices, a little triple sec, and pouring it over some flavored seltzer water. oh yeah.
genius idea alert: to cut the calories in half and have a bubbly treat to toast with tonight, fill your glass halfway with the seltzer water! way better than champagne, amirite?
do you think i could use a grapefruit slice as a floatie?
or maybe a piece of clementine could act as a raft?
on a serious note. the recipe calls for a bottle of red wine. i used pinot noir. honestly, i think a box of Franzia's sangria wine does the trick quite fine too. but we're trying to be "classy" or "grown-ups" … whatever that means…
Pomegranate Citrus Sangria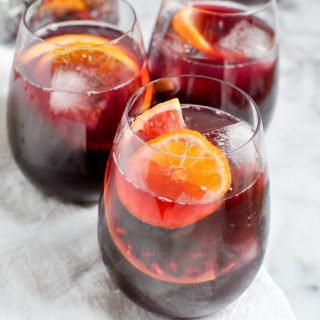 Author:
Prep Time:

5

Total Time:

5
Scale
Ingredients
1

grapefruit, sliced

1

pomegranate, arils removed

4

clementines, sliced thinly

6 ounce

s pineapple juice (i just used a little can, if you're measuring it out its a little less than a cup)

2 cup

s pomegranate juice

1/2 cup

triple sec

1

bottle red wine
pomegranate cherry seltzer water, for serving
Instructions
Combine all ingredients, except the seltzer water, in a pitcher.
Refrigerate at least two hours (i let mine sit in the fridge overnight, but two hours should be fine. also for the sake of being honest… frankie loved it even without giving it time to mellow out the wine… so there's that if you're in a time pinch!).
When ready to serve, fill a glass with ice and fruit from the pitcher. Pour seltzer water into the bottom of the glass (i fill the water up about an inch from the bottom, but its personal preference – to make a spritzer fill the glass halfway). Fill the rest of the glass with the sangria and serve!
Nutrition
Serving Size:

4

Calories:

347

Sugar:

52

Sodium:

19

Fat:

2

Saturated Fat:

0

Unsaturated Fat:

0

Trans Fat:

0

Carbohydrates:

63

Protein:

3

Cholesterol:

0
but secretly if you want to bring me a box of franzia i'll totally take one for the team and open the pomegranate. deal?
Happy New Year!
Make it? Lemme see it! Hashtag it: #thepikeplacekitchen