Please, don't run away from your computer, screaming, after reading the title of this post. I am not crazy, well… that's debatable. I know that temperatures are just beginning to drop and all you want to do is curl up with a nice cup of hot apple cider. Trust me; I pulled out my UGGs and knee-high socks today just because I could. But, just hear me out, because these are good. And I mean really good.
And just so you don't think I'm fully crazy: I bought the ingredients for these on Sunday, when Seattle was sunny and somewhat warm. I saw something like these on Pinterest a few weeks ago, but they used cream cheese and we all know I'm not into that. I got to thinking and suddenly it hit me: PUDDING! It's a similar consistency, it would freeze well, and it could add a sweet vanilla flavor. I started drooling at the thought… and I don't even like pudding.
The Cool Whip and vanilla pudding create a creaminess that almost resembles ice cream. The bitterness of the blueberry is mitigated by the sweetness of the other ingredients. Yeah, I just said "mitigated," I really am a bank examiner. Anyway, the moral of this post is: I bought, I made, and I enjoyed… even in the cooler weather. I've been eating them as a semi-healthy "dessert," if you will, after eating a meal. Although, all day I've been dreaming of getting some crushed graham crackers to throw on a bowl of these little guys and eating them with a spoon… yum.
The other thing: remember on Tuesday, how I told you I spent too much money at City Kitchens? While I was there, I bought these:
They're little ice cube trays, and I was super excited to find them. Like probably more excited than was necessary, and I probably paid WAYY more than was necessary… but who's keeping track? Anyway, I think they're cute and you can use them for freezing candies and stuff too… I'm dreaming up something with chocolate and caramel to put them to work.
Print
Frozen Blueberry Pudding Bites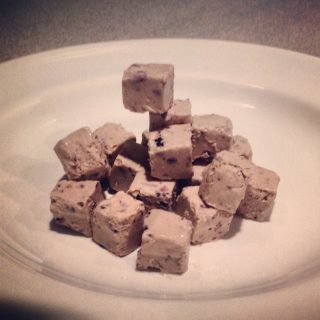 Author:
Prep Time:

15

Total Time:

15
Scale
Ingredients
1 cup

blueberries

¼ cup

vanilla pudding

1 cup

Cool Whip 95% Fat Free Whipped Topping
Instructions
Puree blueberries and vanilla pudding in blender until smooth.
Gently fold the whipped topping into the blueberry mixture.
Spoon into ice cube molds and freeze until firm, approximately 2-4 hours (depending on size of the molds).
Nutrition
Serving Size:

2

Calories:

166

Sugar:

22

Sodium:

82

Fat:

6

Saturated Fat:

5

Unsaturated Fat:

1

Trans Fat:

0

Carbohydrates:

26

Protein:

3

Cholesterol:

4
Make it? Lemme see it! Hashtag it: #thepikeplacekitchen