Happy Fall everyone! I'm so happy that October is finally here and I get to experience it in my new city. Back home, October is my favorite month of the year. All of the best things happen during this month: leaves change color, the air gets crisp, it's finally scarf season, and who can forget Halloween?!
I was just talking to a co-worker this morning about how much I love this time of year, but truth be told: I'm sort of nervous about how I'll like fall in Seattle. I've been told that Seattle stays green all year round, which I'll love… but I think I'll miss the orange leaves. Regardless, I woke up this morning and loved the familiar chill in the air that lets me know summer is gone. I threw on a long sleeved shirt, a scarf, & some boots and marched down to Starbucks to get a Pumpkin Spiced Latte, mmm. Yup, fall really is here :)
Fall brings my favorite types of food and the BEST smelling kitchens. I feel an apple crisp and pumpkin bread in my kitchen's future. My friends and I are also trying to throw a Halloween party, so I'll have to come up with something exciting to bring to that… suggestions are always welcome… hint, hint ;).
Anyway, on to the good stuff: what I'm sharing with you. This week I'm in Seattle for a full ten days! That's the longest I've been in my apartment all month, I'm really excited. Obviously, the first thing I did yesterday was figure out what recipes I wanted to try while I'm here and then I embarked on a journey to Whole Foods (I tagged along with my favorite married couple: Erin & Luis). I wasn't able find everything I needed at Whole Foods, so I happily walked around the city and stopped at Target, Kress IGA, and my new favorite store: City Kitchens (where I spent wayyyy more money than I needed to…oops!).
I felt like, after my introductory post, it was only fitting to feature a pizza recipe that I had been DYING to try. I found
this
recipe over on Just a Taste; Kelly is my newest obsession.
So, this pizza pull-apart bread… I'm just going to call it out of this world. It's actually blissfully unfair, if you ask me. I think I used a little too much pizza sauce, so mine was really gooey, but honestly… I'm not complaining. Another thing I'm totally not going to complain about: how wonderful my kitchen smelled while it was cooking up in my oven. In fact, I'm going to share what's left of the loaf with Erin for lunch so we'll see if she agrees, but, oh man I can't wait for 11:30 to roll around!
I did a couple things differently than Kelly did in her recipe. First, I used premade pizza dough from whole foods. I know, I know… what a way to start this adventure out…cheating. But in my defense, I don't have a mixer to make dough in… it's a cop-out, but whatever. Speaking of mixers though, Kelly has a KitchenAid Mixer giveaway going on right now… I'm trying to be nice and share this with you even though it'll hurt my chances of winning:
here
it is. Second, I made a really stupid rookie mistake… I forgot to get a roller. So I improvised, I used a round coffee mug to roll out my dough; it worked better than I thought it would (I'm still going to buy a roller first chance I get). Aside from some other small technical stuff, I followed the rest of the recipe the way it was developed. Here we go:
Print
Pizza Pull-Apart Bread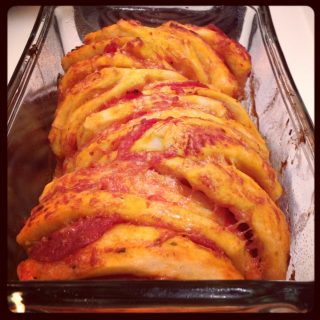 Author:
Prep Time:

90

Cook Time:

30

Total Time:

2 hours

Yield:

1

1

x
Scale
Ingredients
1

package of premade pizza dough

½ cup

pizza sauce

¾ cup

shredded mozzarella cheese

¼ cup

sliced pepperoni

2 tablespoon

s butter, melted

1 tablespoon

crushed garlic
Instructions
Place pizza dough in a bowl, cover, and allow to proof for 1 hour, or until it has doubled in size.
After it has proofed, lay the dough out on a floured surface and roll it into a rectangle. (My rectangle was approximately 15" X 11"). Lightly brush the dough with the pizza sauce, then top with cheese and pepperoni.
Trim and discard the edges of the dough, to make a rectangle with straight lines.
Cut the rectangle into 5 equal strips, approximately 3" wide. Cut the strips into four squares, I found it easiest to run a line down all the strips at once, creating twenty squares total. I found it easiest to then stack five squares on top of each other, making four piles.Lightly spray a 9" x 5" loaf pan with cooking spray. Stack the squares against each other, in the pan, with the cut edges down. The squares will not fill up the pan, so don't worry if it looks empty! Cover the pan and let it proof for 30 minutes.
Preheat the oven to 350°F
Place the loaf on a baking sheet and let it bake for 15-20 minutes.
Mix the melted butter and crushed garlic together. Remove the pan from the oven, lightly brush the top of the loaf with garlic butter, and allow it to bake for another 15-20 minutes. The top of the loaf should be golden brown.
Remove the loaf from the oven and let it cool before turning it onto a serving plate.
Enjoy!
Nutrition
Calories:

1820

Sugar:

33

Sodium:

4749

Fat:

98

Saturated Fat:

40

Unsaturated Fat:

50

Trans Fat:

1

Carbohydrates:

188

Protein:

49

Cholesterol:

136
Make it? Lemme see it! Hashtag it: #thepikeplacekitchen
Insty. Twittah. Lovingzeblogs. Pinnypins.