So there is this blogger thing.  It's called What I Ate Wednesday.  It was started by Jenn (who is awesome by the way).  And I decided I wanted to jump on the train.  I think it's a great way to take a birds-eye-view of my eating habits & also try something… dare I say it… exciting on the blog?  Yes.  Yes, I do dare.  I think this could be fun guys, so let's hop on the WIAW train.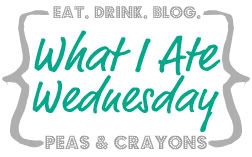 I haven't been able to get to the grocery store since I flew into Seattle at 12:30am on Monday, soooo I mainly ate purchased stuff/leftovers.  This is actually What I Ate Yesterday, aka Tuesday.

Breakfast:
An everything (but mainly onion & garlic… yum… if someone could make a garlic onion bagel for me I'd be in heaven.  You all know about my garlic obsession, this should come as no surprise.  I have no regrets.) bagel with bacon.  The nice man looked at me like I had four heads when I politely requested he NOT include egg and cheese.  I ONLY WANT THE WORST PARTS SIR, the carbs & the grease… yum.  Bring those bad boys on.  I also had a venti mocha coffee… should have ordered an extra shot but you live and learn.
Lunch
Now this… this is where it's at.  I went over to Deb's for dinner on Monday and she was kind enough to pack me some leftovers to take to work for lunch.  I had marinaded flank steak (OMG TO DIE FOR.. I don't remember the marinade but I can ask her) with broccoli & garlic bread.  I was living the life.  THANKS DEB, you're amazing!
Dinner
I had dinner with Laura at Fonte Cafe.  She had a coupon for a buy one get one free pizza there.  She ordered the Margherita (which was delish) and I ordered the Salsiccia.  Mine was really good, I added some crushed red pepper to it (on accident) which ended up being a really good choice.  If i were going back I'd probably order the Margherita; but mine was still REALLY good.  I'm eating my leftovers for lunch tomorrow.. I might throw a dab of sriracha (honestly the worst word to spell ever) on there before I head out the door, just sayin.
Dessert
No pictures of this, but I had a few pretzel m&m's and two glasses of red wine with Laura while we watched The Voice.  After I got home I munched on a few Saltines.  I do really love those crackers.  Nom nom.
All-in-all it was a pretty successful day.
What did you have?  Tell me all about it : )